We Are Hiring!
Contact us
today for more information!
Landscape Contractor in Green Bay, WI
Landscape Renaissance LLC has offered a team of trusted landscapers for comprehensive landscaping in Green Bay, WI and Northeast Wisconsin since 2006, and our landscape artists are passionate about the work that they do. Whether you're in need of lawn care or intricate landscape design and construction work, we're the business to call!
Landscapers in Northeast Wisconsin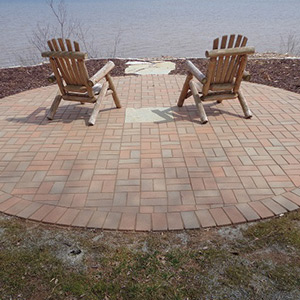 Are you looking for a landscape business in Green Bay, Door County or Northeast Wisconsin who can turn your landscape vision into a reality? Then you've made an excellent choice in selecting Landscape Renaissance LLC to make your landscape dreams come true. We're passionate about creating unique, functional designs for your outdoor living space, be it a residential or commercial property. Our trained landscapers are committed to providing outstanding work to each and every customer, and we love the work that we do! You can be sure that your landscape will be created with quality craftsmanship and attention to detail.
At Landscape Renaissance LLC, our landscape contractors have the experience, knowledge and tools needed to take on any landscaping project you have in mind! We have expertise in natural stone and concrete unit retaining walls, paver sidewalks and patios, water features, ponds and pondless waterfalls, landscape lighting, tree, shrub and perennial installations, and landscape renovations. Our goal is to make our clients' landscape dreams come true. We are proud to be considered one of the top landscape design/build companies in Northeast Wisconsin. Take a look at some of the reasons why people in the area contact us when they need landscape contractors, and check out our design gallery:
We proudly serve all of Northeast Wisconsin.
We have locations in Green Bay and Door County.
We have a growing business established in 2006.
We offer free initial consultations, designs and estimates.
We are Better Business Bureau A+ rated accredited company.
We are active members of the Wisconsin Landscape Contractors Association.
Now Hiring!
Landscape Renaissance LLC is seeking a Landscape Foreperson/Landscape Technician. 
We are looking for friendly, motivated, hands-on people with good communication skills. 
All position candidates must be reliable, trustworthy, dependable and safety orientated. 
At least 1 year of experience in hardscape installation (retaining walls, paver or natural stonewalks; patios, water features, fences, etc.). 
An ability to execute detailed landscape installations from plan. 
Must poses a strong working knowledge of plant materials, site grading, lawn establishment and associated landscape components such as mulches and bed edgings. 
Strong working knowledge of grounds and plant maintenance. 
An ability to safely and proficiently operate landscape equipment (skid steers, brick saw, etc.) is preferred. 
Foreperson must have the ability and desire to guide crews to take projects from beginning to end on time and within budget.  
A Valid drivers license with a good driving record is a must. A CDL License or ability to get one is preferred.